FAQ 有问必答
from ordering to delivery, find out more here . . .这里一次告诉您!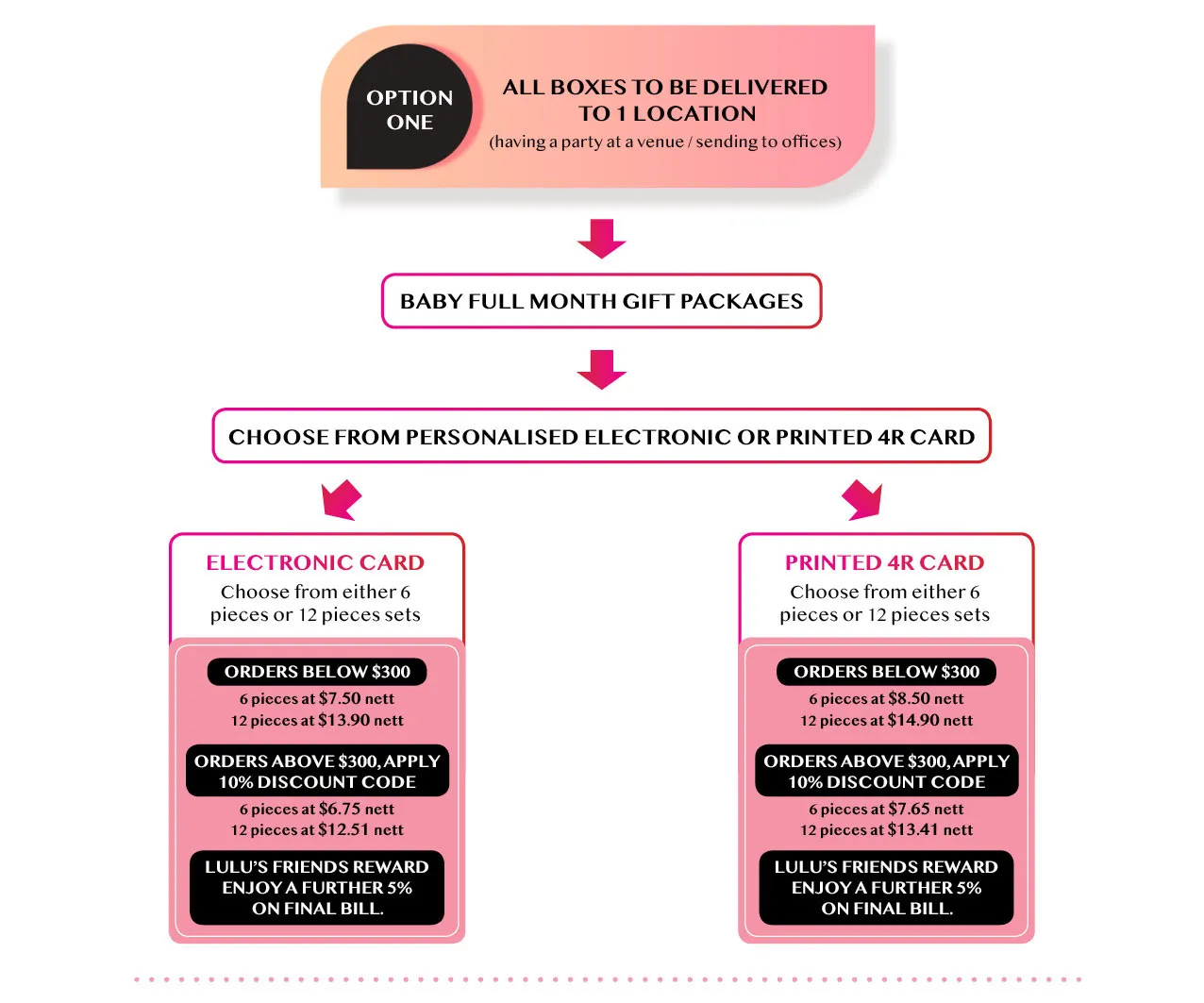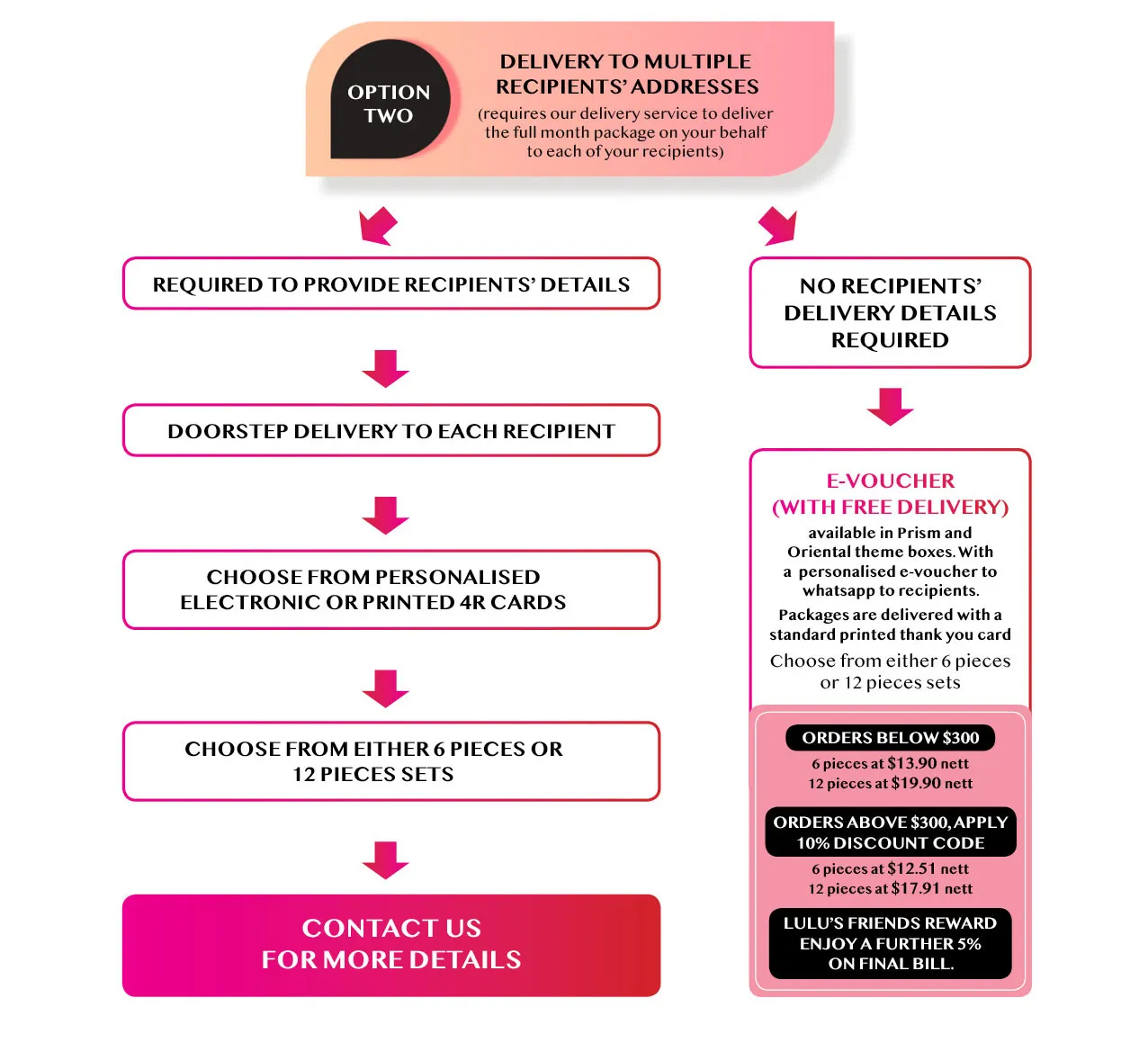 popular questions
Everything you need to know before placing your order with us.
All orders MUST BE PLACED ONLINE. If you experience any difficulties during online ordering, please feel free to contact us via priority@lulus.com.sg or click to Whatsapp us. We will be glad to assist you with your online ordering.
Online orders must be made no later than 10 am, 3 days in advance of your delivery date (delivery date not inclusive).
Please ensure the correct entry of email address and mobile number to avoid delay in processing or non-processing of your order. If you did not receive an email from us after placing your order, it might have gone to your spam folder, make a check and contact us at order@lulus.com.sg if otherwise.
A min of $100 purchase in a single order is required.
For mix-and-match packages, a min of 10 boxes (per theme box/pastry type) is required. All boxes come with a choice of printed message cards or virtual cards and paper bags*.
A min of 10 copies of e-gift vouchers in a single order is required. Vouchers can be redeemed by recipients directly or on behalf of the recipients by the original sender (the customer who purchased the e-gift vouchers) and delivered on the same day or redeem separately on different days (available on Saturdays only).
* Recipient's Doorstep & E-gift voucher packages will be delivered in a clear plastic bag.
All payments are to be made via Credit card/Debit card or PayNow upon checkout of your online orders.
Our packages are net price and there is no GST.
There are several types of ang ku kueh in the market. Ang ku kueh (the tortoise shell shape) is used to symbolise baby girl while ang yee (pointed shape) is for baby boy. As such, we provide ang ku kueh for baby girls and ang yee for baby boys in our baby full-month packages, in the traditionally preferred way.
Red eggs are dyed with halal-certified food ink and come with a pink ribbon sticker for baby girls and a blue ribbon sticker for baby boys.
Our ang ku kuehs are made of vegetarian oil, with no content of onions. All ang ku kuehs come with mung bean filling.
Our ang ku kuehs are vegetarian items. They do not contain meat, onion, or animal oil.
Our glutinous rice contains dried shrimp, therefore it is not suitable for Vegetarians.
All our pastries are made with eggs and do not contain meat, onion, or animal oil.
We offer halal and vegetarian options for your guests at no extra charge. Items will be replaced accordingly to suit the special dietary requirement. For the vegetarian option, if eggs are not acceptable, please contact us for more information.
All full-month orders come with FREE* delivery. All deliveries are for local addresses only (including Sentosa but excluding offshore islands).
We cannot schedule a specific delivery time within the time range of these free slots. You may select a specific delivery time slot for your order if required, additional charges apply (see the next pointer below).
Recipient's doorstep packages are delivered anytime 11am-5pm (no specific time). E-voucher redemption packages will be delivered on Saturday (only), 11am – 5pm (recipients choose their own delivery date, please note no specific time request).
Please ensure someone will be available to receive the package at the provided delivery address. In situations wherein nobody is around to receive the packages, our drivers will leave the package(s) at the doorstep.
We will always ensure our delivery vendors try their best to deliver your packages within the stipulated time, however, we appreciate it if you could give them an allowance of 15 mins for any unexpected delays (bad weather or traffic condition, delays from previous deliveries, etc) if any.
For orders which contain different types of packages in a single order, the free delivery privilege will be based on the price of the baby full month packages (to 1 location) only. The value of recipient's doorstep packages and/or e-voucher packages will not be included.
Orders (baby full month packages to 1 location) below $150 enjoy free delivery @ anytime 11am – 5pm, orders above $150 may choose from 3 free delivery slots: 10am – 1pm, 11am-2pm or 11am-5pm.
* Free delivery excludes special zone addresses with postal codes starting with these numbers: 01, 02, 03, 04, 05, 06, 07, 08, 17, 18, 22, 23, 24, 61, 62, 63, 64, 69, 70, 71 and 72. A $6 surcharge applies.
10am – 12pm @ $13
9am – 10am @ $23
10am – 11am @ $19
11am – 12pm @ $19
12pm – 1pm @ $23
1pm – 2pm @ $23
2pm – 3pm @ $29
An additional $6 surcharge applies for special zone addresses with postal codes starting with these numbers: 01, 02, 03, 04, 05, 06, 07, 08, 17, 18, 22, 23, 24, 61, 62, 63, 64, 69, 70, 71 and 72.
In the event, should your order arrived 15 minutes later than your selected time range, we will offer a refund for the additional delivery charges that were paid (please note $6 special zone surcharge will not be refunded).
Please contact us for a refund via order@lulus.com.sg.
Any changes to your order must be updated with us no later than 1 pm, 2 days* before delivery as all products are made to order. Changes include a change of delivery date, time, address, number of boxes, and a pastry option. In the event that you have already approved your message cards for production, no change of theme box option is allowed.
Payment for the add-on must be completed by 1 pm, 2 days* before delivery in order to CONFIRM the add-on.
* If your order consists of a 4R printed card, the update and payment must be made no later than 4pm, 3 days before the delivery date. Otherwise, the additional orders will not come with 4R printed card.
All orders come with a choice of printed message cards or virtual cards in your chosen theme box design. Send your photo and personalised message to cards@lulus.com.sg and quote your order number.
Please submit the original file of your photo, do not crop your photo or add frames element to it. You can send us both the original file and a cropped file so we know which portion you'd like to focus on your photo when we embed your photo into the card.
Photo collage (combining a few photos together into one image) is not recommended. Only 1 single shot photo is accepted.
Please allow 1 day for our design team to send you a draft of your card for approval.
TIPS ON PHOTO SELECTION
The photo can be taken by a digital camera or phone, as long as the photo is sharp and in good resolution.
Choose a photo that has plenty of empty background space around the baby so that our design team can have more flexibility to design your cards. Avoid photo that has the baby too near to the edges and we strongly recommend a photo that shows the complete face and hands of the baby.
It is best to take a photo of your baby on a light and plain-coloured bed or sofa with minimum elements, in a bright environment. Remove any items around the baby that you do not wish to appear in your photo, as we are not able to edit (remove undesired items from) your photo.
Our design team will take in the extra effort to brighten up your colours and correct colour tone whenever necessary, to ensure your photo is looking at its best.
TIPS ON DRAFTING PERSONALISED MESSAGES
We encourage our customers to get creative and write something that's really customised for themselves! Get creative and customise your very own message in English, Chinese, or any International Language!
To inspire our new customers, we would like to share some of the messages from our past customers:
1) Welcome our Baby, (name of Baby) | D.O.B. | Birth Weight / Birth Length
2) Hello! My name is (name of Baby). Thank you for Celebrating my Full Month with Daddy (name) and Mummy (name)!"
3) Hi, I'm (name of Baby), Thank you for coming to my Party!
4) New arrival of Our Baby Boy/Girl, (name of Baby)
5) Thank you for sharing the Celebration with our Bundle of Joy! (name of Baby / D.O.B.)
6) Thank you for sharing this Joyous Occasion with us! With lotsa love from Daddy (name) and Mummy (name)!
7) Happy one month to Baby (name of Baby)! Thank you for celebrating with us.
8) Baby (name of Baby) says Thanks!
EXTRA INFO FOR PRINTED MESSAGE CARDS
All cards have to be processed for printing production latest at 4pm, 3 days before the delivery date to ensure that your packages are packed with the printed message cards.
No changes are allowed once cards are approved for production.
If in any event, we do not receive your response to the draft, we'll confirm the draft on your behalf to proceed with production when the deadline is due.
If it is necessary for you to make any changes after your approval or production deadline, a reprint surcharge of $25 will apply. This surcharge cannot be waived.
We strongly recommend consuming all the items in the packages on the delivery day itself. All our pastries (sweet treats) and kuehs are freshly made on the early morning of the delivery date.
Otherwise, please store them in the fridge as soon as you received the packages and consume them by the next day.
Traditional kueh items such as ang ku kuehs/ang yees and glutinous rice will be hardened once they are stored in the fridge, therefore we do not recommend you store these items. They must be consumed on the same day for absolute freshness.
If you have a change of mind about your order*, we offer a NO QUIBBLE 100% refund in the form of store credit which you can utilise later or pass on to another friend or relative with a validity of 12 months. The notice must be served no later than 1 pm, 3 days before your delivery date.
For a reduction of boxes, a minimum of 10 boxes per theme box/pastry type must still apply in a single order. In the event the box reduction is made after 1 pm, 3 days before delivery, 50% (on the reduced number of boxes) is chargeable.
If you decided to cancel your order after our designers have sent you the draft of your printed/virtual message card(s), a designer fee of $15 per theme card design will apply. If message cards have been approved for print, an additional production fee of $4 per card will apply – you may request for us to deliver the printed cards to you at a delivery fee of $5.
An administrative charge of $50 is chargeable for all cancelled orders, once your order is submitted to us. This will not be waived in any circumstances.
A cancellation charge of 50% on the total bill (including surcharges) is chargeable for all cancelled orders with less than 3 days' notice from your delivery date.
An additional 3% (credit card processing fees – this applies if you have paid via credit cards) on the refund amount will also be deducted from the refund amount.
There will be no refund for cancellation notice less than 24 hours before the delivery date, and 100% of your total bill will be chargeable.
* All e-vouchers sold are non-refundable and cannot be converted to store credit, in the event you have a change of mind.
Simply email to order@lulus.com.sg and we'll be glad to attend to your queries during our office hours. Our working hours operate from Mondays – Fridays, 1am – 6pm; and closed on weekends and public holidays. All correspondences received after 5pm will be replied to on the next working day.
Please drop us an email at priority@lulus.com.sg or click to Whatsapp us after office hours for urgent inquiries, we will reply to your emails as soon as we possibly can.
Is your query not answered?